Benefits of Mirror Splashbacks in Sydney

If you want your property to outshine others in Sydney's home market, consider showcasing it with a unique design combined with quality construction materials.
By choosing the right elements to include in your home, you'll stand higher chances of selling it more quickly at an attractive price. Failure to do that, your home may stay longer without an attractive bid.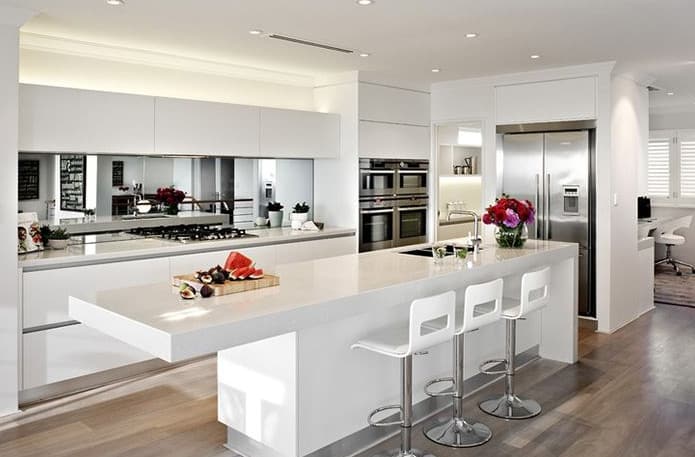 There are several effective ways of highlighting the design of a home. Among these ways, installing mirror splashbacks comes with huge returns on investment.
By installing mirror splashbacks in Sydney the right way, you'll maximize natural light, fix any design shortcomings, and showcase its elegancy. As a result, you can elevate the value of your home during a renovation project by installing mirror splashbacks.
Installing mirror splashbacks comes with multiple benefits
Highlights an open plan room design
Today, there's an increasing trend among homeowners preferring spaces with an open plan room design. Thus, they'll not hesitate to pay more for a home with an open plan design.
Unlike regular glass splashbacks, which also come with their benefits, mirror splashbacks elevate the effect that comes with an open plan. They create an impression of extra depth and space in rooms that otherwise feel and look closed.
A kitchen splashback can invite other spaces like the dining area or living room into a kitchen featuring an open plan design. Thus, it'll create a sense of cohesiveness in the design of the kitchen and adjacent rooms.
Magnifies the benefits of natural light and views
Mirror splashbacks are commonly installed in the kitchen, just behind the kitchen hob. They're also ideal for installation between the countertop and cabinets.
Unlike typical mirrors, splashbacks are made with toughened safety glass. The process used in making the glass is extremely rigorous such that it makes the glass hardened.
That way, it's able to withstand moisture and heat in the kitchen, even when mounted close to the cooktop. Thus, you won't have any concerns about the splashback warping, shattering, or cracking.
In most kitchen designs, the window behind the kitchen sink offers the best outdoor views. The oven or gas hob is typically mounted on the opposing or adjoining wall. In a typical kitchen design, the splashback may require decoration and lighting to enhance its aesthetic and functionality.
Regardless, the splashback will reflect natural light and make the kitchen look brighter. If the windows are designed to allow for valuable outdoor views, the splashback will magnify the views, especially if mounted on the opposing wall.
Enhances daylight effect
You can maximize natural light by installing mirror splashbacks. Research shows that daylight comes with multiple benefits including:
Improves health and increases productivity
Reduces energy costs
Improves circadian rhythms and enhances sleep
Since a splashback reflects light, you won't have to overly on artificial lighting during the daytime. Since most homeowners spend a significant amount of time in their kitchens, enhanced natural light in the space can promote their health and assist in regulating circadian rhythms.
Accentuates the style of a home
Antique mirror splashbacks work well in both traditional and contemporary kitchen styles. The rough, vintage antique style reduces glare, unlike completely reflective mirrors. Smoked mirror splashbacks create a greyish tint that assists in accenting the countertop and cabinet.
Besides installing splashbacks in the kitchen, they're also ideal for installation in a home bar. They also assist in adding character and texture.
If you're using tiles as your kitchen splashback, consider replacing them with mirror splashbacks for a more captivating look. Besides windows and walls, you can also use them to accentuate other features such as highlighting a wooden floor.
Easy to clean
A tinted splashback hides splatter effectively. You can easily clean the surface with a general cleaning product or a glass cleaner to maintain its shiny look. Also, the panels are fabricated in such a way that mold and food matter won't find spots to hide.
Remember to avoid using abrasive cleaners such as plastic or metal scrubbers when cleaning your splashback. Abrasive materials can cause permanent damage on a splashback since they'll scratch the delicate glass.
Enhances the look of a bathroom
You can make your bathroom or washroom stand out by installing a splashback. It'll work by making the space look and feel larger. A splashback will also highlight bathroom fixtures and colours.
Additionally, innovative techniques combined with custom designs can allow for the installation of a splashback that extends to the sink countertop with a faucet placed on the glass.
Adding Value with Mirror Splashbacks
Interior designers and architects have used mirrors for many years to enhance the effect of sunlight in a space. However, some kitchen designs make it challenging for natural light to reach dark corners. In this case, you can take advantage of a mirror splashback to enjoy benefits such as:
It reflects natural light into darker corners and makes a small space feel larger.
You can choose from a wide range of tints and finishes to complement modern and traditional styles.
The toughened glass is not prone to damage from moisture and heat.
You can easily clean the splashback.
Also, splashbacks are ideal for accentuating fixtures in bathrooms and wet bars while adding spaciousness and brightness.
If you've made up your mind to install a splashback in your Sydney property, you can rely on Majestic Glass to do the work for you. We can design and fabricate the splashback according to precise measurements with the latest laser equipment.
We can customise the splashback as per your needs for a perfectly unique and top-quality design. Contact Majestic Glass through 1800 452 946 for all your splashback installation needs throughout Sydney.