Majestic Fly Screens Sydney
Majestic Glass supplies and installs top quality fly screens that are custom made for your specific requirements. Choose from our range of pleated and fixed flyscreens.
Keep Flying Insects Outside
Insects such as mozzies and flies are a frustrating part of every Australian's life. Why not do away with them completely rather than ignoring them?
Fly screens offer an effective and proven method of keeping away insects, making sure that you remain nuisance free and comfortable at your home, and you can enjoy the amazing view and fresh air outside.
However, not all fly screens are designed equal.
Leading Provider of Flyscreens With 25+ Years of Experience
Majestic Glass boasts of offering a product that is not comparable to any other, and has over two decades of experience in the fly screen industry. Majestic Glass is one renowned supplier and installer of insect screens in the Australian market.
Our company's fly screens are super effective and blend in your home perfectly due to their stylish and sleek design.
Beautiful Views
Majestic Glass' fly screens come with a superior span width of 6 meters for a double unit, while a single unit has a 3 meters span width. This makes them the most functional fly screens in the market.
All our fly screens are made of extruded aluminium, and the mesh is coated with PVC for durability. Their design incorporates small tracks, a wide range of colors and sizes, discrete fittings, and passes almost unnoticed.
All you need to do is choosing your desired style, sit back and have fun enjoying the views without any insects annoying you.
PLEATED FLY SCREENS
If you are searching for something different from a retractable fly screen, then the Majestic Pleated Fly Screen will be a great option to go for since it doesn't have a spring-tensioned cassette mechanism. It makes use of pleats that stack back conveniently once you put the fly screen away.
They are increasingly becoming popular among Australian home owners due to their aesthetics, low maintenance, and ease of use.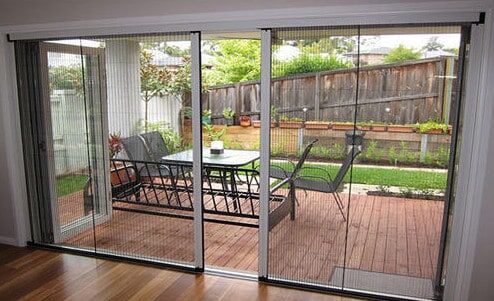 Smooth, Free Sliding Design
The mesh in pleated fly screens works like an accordion, rather than a mesh that rolls into a cassette. Hence, once the pleats are retracted, they easily fold back and stack on each other.
This is contrary to most retractable screens that rely on a spring for the mesh to roll back in a cassette. This can be frustrating to some users, especially for small children or the elderly, since they would have difficulties extending the screen due to the tension of the spring.
Our pleated fly screens are designed and manufactured fully in Australia. They offer seamless performance, and are considered as one of the best products in the fly screen market, thanks to its great looks and compact design.
Besides these, here are more reasons why this screen is becoming the choice to go for among many Australians:
Fits into almost all environments
Since its tracks are narrow and small, they can fit and blend into almost any opening.
Ability to protect larger areas
The pleated insect screen measures up to 8 meters for the double screen and up to 4 meters for the single screen.
The pleated screens come in multiple finishes and colors to choose from, such as clear wood grain and anodize. The screens can also be rebated into wooden frames or recessed into flooring.
An exclusive top wire system
The top wire system ensures that the mesh does not blow out or drop.
The bottom track has rounded profiles
This offers easy access to the prams and wheelchairs.
Designed with handle guides and reinforced pleated mesh
This prevents the screen from blowing out in case of strong breezes.
It is suitable for any door, even those with wide areas like stacker and bi-fold doors.
SLIDING AND FIXED INSECT SCREENS
Durable, High Quality and Affordable
When either a pleated or a retractable screen is not the choice, then the Majestic sliding or fixed high-performance screens are the best when searching for an affordable and practical means of keeping insects at bay.
All our screens for windows come with a thick, smooth face and mitred corners that make them easy to clean and unobtrusive. These insect screens can be fixed on numerous types of openings and windows to protect against wasps, flies, bees, and any other flying insects. Different weave sizes and mesh materials can be fitted with all our insect screens to suit your specific insect proofing needs.
Each and every screen comes with an inbuilt brush pile that fits on any surface to create a strong seal, such that only fresh air is allowed in. The meshes are replaceable multiple times without installing a new framework.
Reasons to Go For Prowler Proof Sliding and Fixed Insect Screens
For many years, we have recommended the Prowler Proof sliding and fixed insect screens to many Australians. Here are the reasons why:
Designed to your specifications
We can always customize a screen for you as per the size you prefer, whether it is for a door or a window.
Welded together for more strength
All Prowler Proof screens have a completely welded frame. Welding makes stronger joints when compared to a rivet or a screw. A weld also looks better than rivets and screws.
Seamless and Smooth Corners
Prowler Proof insect screens are made with smooth, seamless welded corners that make them look like they are a single piece.
More Resistant to Corrosion
The risk of corrosion is reduced due to lack of rivets and screws that penetrate the mesh and frame.
Available in a Wide Range of Systems
These screens are available as sliding windows, sliding doors, and hinge doors screens in almost any color and size. There are many gauze options to select from such as stainless steel suitable for areas prone to bushfire.