Custom Awnings & Glass Roof Sydney
At Majestic Glass, we're proud to have some of the most experienced glass roof glaziers and glass awnings experts in the entire Sydney region. We only complete glass roof Sydney projects to the highest standards. We're always committed to offering the best glass roofing solutions in Sydney NSW.
Glass Roof and Awning Experts
Looking for a glass awning or glass roof for your home? Majestic Glass offers a wide range of skillion, gable, and curved glass roofs and glass awnings.
Recent Project: Parramatta Wharf Glass Awnings
Broken glass can be dangerous, especially when falling off from a glass awning or glass roof of your home. As a result, it's important to ensure that you use safety glass and the glass installation is done by a qualified glazier according to Australian Standards.
Moreover, our accredited and highly qualified home glass roof specialists and project managers will make sure that every aspect of the glass awning or glass roof installation is properly managed from the start to completion. We can customise the glass roof structures to meet your requirements. We make use of powder coating so as to match with the existing roof colour of your home or business.
We install glass roofs and awning of all sizes and shapes. For our roofing design, we only use top-grade products for all glass installations such as laminated glass, toughened glass, or their combination.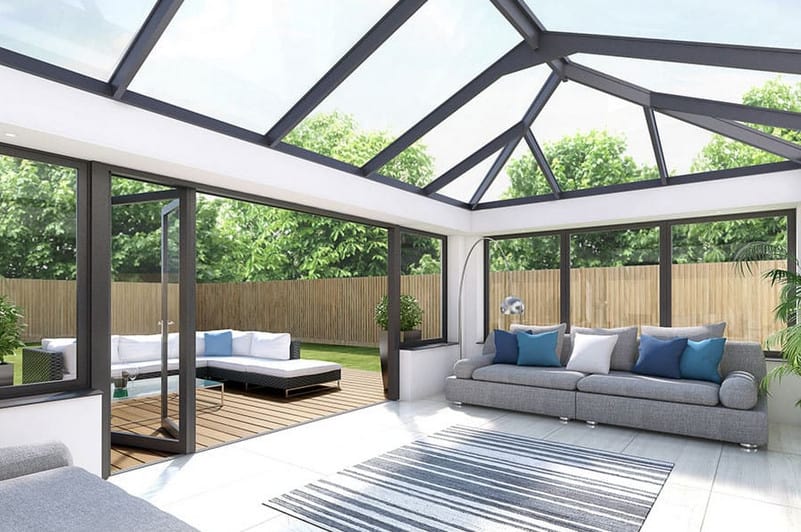 Frameless Glass Roofs and Overhead Glazing Systems
Overhead glazing and frameless glass roofs comes with numerous benefits. Besides making an area feel more spacious, it also adds natural light in the space.
You can install stunning and unique glass roof structures in your home or business premises to allow for natural light in areas of your property where typical windows wouldn't deliver.
Our professional team of glass roofs tradesmen possess the much-needed expertise, knowledge, and tools to assist you to create a sophisticated glass roof system with an enhanced architectural look. We have our glazing compliance certification from AGWA.
Reduce the over-reliance on artificial lighting by adding a skylight in your property. You can choose from a wide range of skylights to match the design of your glass roof.
Benefits of Frameless Glass Roofs
There are several benefits that come with a frameless glass roof. They include:
They create a notable design statement in any property
Glass skylights reduce environmental footprint by reducing the over-reliance on artificial lighting
The flexibility in how the glass panels are positioned allows for maximum light into a space, thereby brightening the interior with natural light.
Whether you want sunlight to get into your sitting room or you want your store to have more natural lighting to improve the shopping experience of your customers, overhead glazing will be your best bet.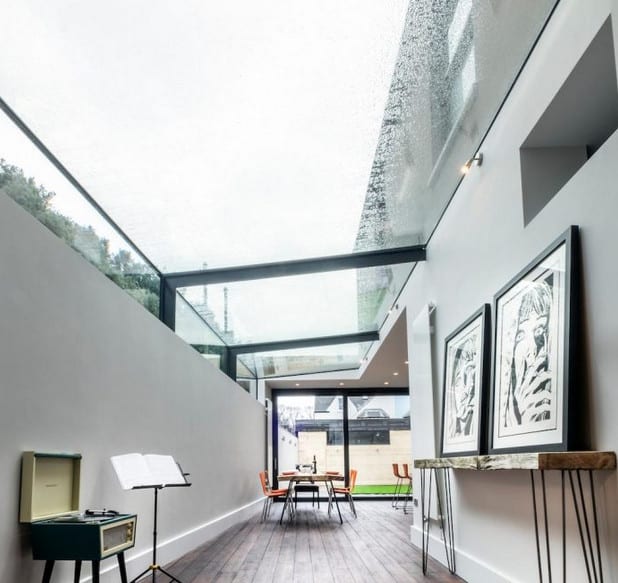 Energy Efficient
One of the main benefits of glass roofs and awnings is their high energy efficiency. Our high-quality glass roofs guarantee reduced energy bills. Besides, our products are insurable by major insurers. Thus, we can assist you in making glass insurance claims.
Glazed Roof Skylights
At Majestic Glass, our tradesmen lead in manufacturing, supplying, and installing glazed roof skylights in Sydney. Our services for skylights can feature a thin aluminium frame that is ideal for installing both small and large glass roofs.
Our tradesmen can construct glass roofs according to your building or architectural specifications. We only use top-grade aluminium frames to customise skylights to meet your requirements and suit particular applications.
Majestic Glass has many years of unrivaled experience in installing glazed roof systems and glass skylights services.
Professional Glass Roof Installation in Sydney
As a professional glazing company, we'll walk you through the entire process of choosing and installing a glass roof to assist you to make a more informed decision. Our tradesmen recommend the best designs and finishes that can meet your needs and style. Our glaziers will be happy to assist you with choosing the design, size, and shape suitable for your property. Besides, we can tailor the glass roof according to your specifications.
We have completed remarkable glass roofing projects for commercial and residential properties across Sydney. Our home and commercial roofing systems only use industry-leading glazing equipment, tools and technology to get the job done to the highest standards. Contact us via email or call us on 1800 452 946 to book for an appointment and receive a free quote on our roofs services.