Custom Glass Splashbacks Sydney
Majestic Glass specialises in supply and install of glass splashbacks in Sydney. Our glass splashbacks are ideal for installation in alfresco areas, feature walls, kitchens, laundry rooms, and bathrooms.
We use tempered glass in a thickness of 6mm to make splashbacks. The glass panels are customised to suit your specific requirements.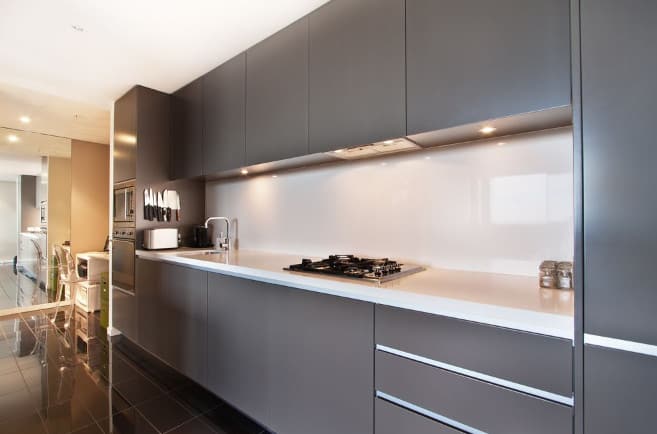 Glass Splashbacks for Kitchens
No one likes a kitchen with stubborn marks and stains on the surfaces. You can prevent liquid and oil spillage from sticking on various kitchen surfaces by installing glass splashbacks for kitchens made to measure.
While it's impossible for your kitchen to stay free of minor spillage and stains, glass splashbacks will prevent stubborn stains and damages on kitchen surfaces. Also, the splashbacks can add elegance to any kitchen.
Advantages of Kitchen Glass Splashbacks
Easy to maintain and clean
The glass surface of kitchen splashbacks makes them effortless to clean. There are no crevices or gaps where bacteria or mould can grow. Also, you can easily wipe off any spillage or splashes on glass with a wet cloth. You don't need any high-end cleaning products or detergents to clean the glass.
Aesthetically pleasing
Glass splashbacks look beautiful. Even if your kitchen has a simple setup, you can add glass splashbacks to upgrade its entire look. Also, you can mix different hues for a more personalized look.
Quality finish
You can choose from different splashback sizes. Also, you can have them depending on your preferences. The glass edges are finished smoothly such that there are no rough ends. As a result, there's minimum tear and wear.
Resists scratches and heat
Our splashbacks are made of toughened glass. They're able to withstand extreme temperatures. Also, they resist breakage from heat or impact.
Several colour options
There are several colour options to choose from when shopping for glass kitchen splashbacks. Thus, you can find a colour that will match with the rest of your kitchen décor or certain elements such as the worktops or cabinets. You can also choose from several shades, patterns, and designs.
Easy to install
You can easily install glass splashbacks in the kitchen, unlike ceramic tiles that are quite challenging to install.
Additional Benefits
If you're trying out new recipes, you can take advantage of the splashback to write down important details with a temporary marker pen. You can easily wipe off the writings with a wet cloth.
How to Maintain Glass Kitchen Splashbacks
Keep the splashbacks shiny by wiping them off with a lint-free cloth after cooking. Ensure the cloth you're using is soft.
Use a mixture of water and vinegar to clean your glass splashback occasionally.
Avoid using harsh cleaning agents or chemicals. Also, avoid rubbing the glass with abrasive items.
Bathroom Glass Splashbacks

Glass splashbacks for bathrooms and showers look exceptionally beautiful. They easily bring life to the bathroom space. At Majestic Glass, we have some of the most innovative glass printing and fabrication techniques. We've developed these techniques over many years of experimentation, trials, and skill.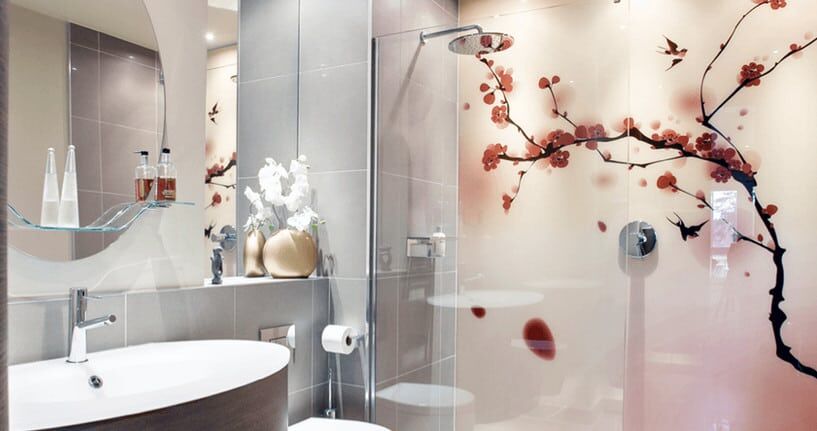 As a result, we're able to produce some of the most unique glass splashbacks for bathrooms and other glass products featuring vivacious and vivid effects.
We only use toughened, low iron glass to make the splashbacks. Low iron glass doesn't have a green tinge that's often seen in regular glass. Consequently, you'll get a more accurate colour representation and enhanced colour accuracy.
Our bathroom splashbacks are highly functional in any wet area such as the laundry room or bathroom. Most importantly, glass splashbacks assist in keeping bathroom surfaces mold-free, hygienic, and clean.
Glass splashbacks come with multiple benefits. They're low maintenance, hygienic, modern, and effortless to clean. Unlike tiling, they don't trap grime and mould.
A glass splashback can enhance the overall look of a bathroom by giving it personality and warmth. It's a great option for replacing damaged or outdated tiles without doing a full remodel of the bathroom.
Coloured Glass Splashbacks

We offer a wide range of coloured splashbacks such as solid colours or metallic colours that will add extra depth and sparkle to the toughened glass.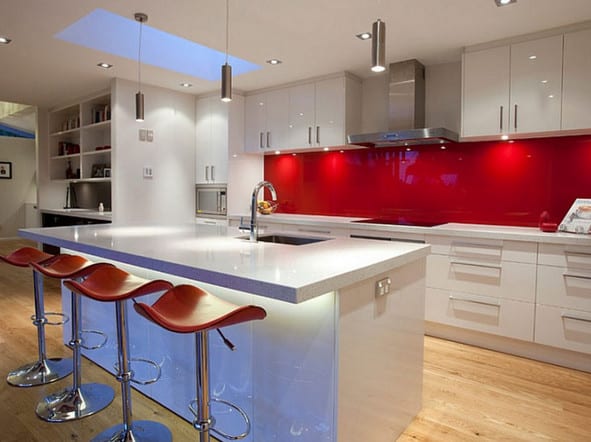 Also, you can choose neutral colours like whites or light greys. On the other hand, bright vibrant colours are ideal for a more dramatic look. If you want the brightest effect, you can choose ultra-white.
Our experienced team of glaziers at Majestic Glass will offer you professional advice about the best colour options depending on your benchtops, cabinetry, lighting, and styling.
Mirror Splashbacks
One of the best ways of opening up the kitchen area is by adding mirror splashbacks. They're sophisticated and stylish.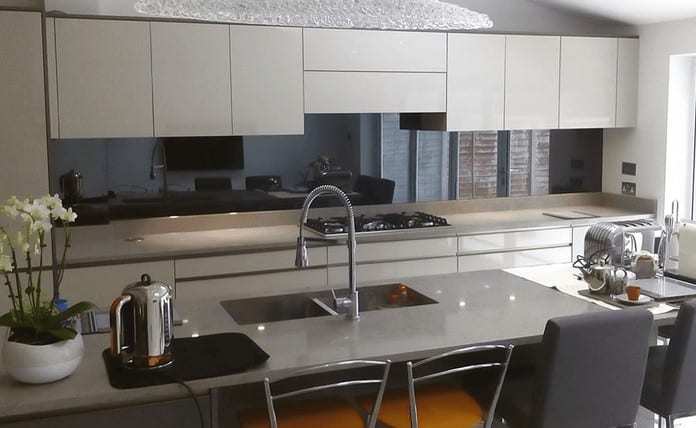 We use toughened safety glass to make mirror splashbacks. At Majestic Glass, we offer mirror splashbacks in different finishes including ultra grey, grey ash, grey smoke, bronze, and silver.
Why Choose Majestic Glass for Sydney Glass Splashbacks
Fast turnaround time.
Free measure and quote.
Warranty on glass splashbacks.
We only offer toughened glass splashbacks.
Easy to clean and maintain.
Splashbacks will be fabricated and installed professionally by our qualified glaziers.
Choose custom colours to match your existing decor.
We offer free quotes after taking measurements.
We paint the splashbacks in our Sydney factory. We only use top-quality paint and technologically advanced spray booths.
You can choose an extra, optional coating for your splashback to repel grease and dirt and reduce cleaning time.
With Majestic Glass, you can rely on us for delivering a friendly, reliable, and prompt service. We only offer high quality products giving you the best value of your money. Besides, we'll offer you professional onsite advice about the best options for your needs.